ZITV (Zarco Ibarra Televisión) is a broadcast terrestrial channel that broadcasts drama, fun, movie, news, culture, documentary, telenovelas, etc, being owned by ZIM B+M+E. Launched on December 3rd, 1969, by Alberto Zarco (b. 1931, d. 2017) and José Ibarra (b. 1929) as a test broadcast and was officially launched on January 21, 1970.
ZITV (first era)
1970-1976
1976-1979
In 1976, with the beginning of color television in Britania, ZITV launched a logo with a 'sun' symbol, representing the brightness of the new democratic era of the country.
Red ZI Canal 4
1979-1990
In 1979, ZITV expanded its transmissions by launching a new network on channel 4 (where ZITV was previously located) and channel 7. After the launch of the second channel, ZITV changed its name to Red ZI Canal 4 (Spanish: ZI Network Channel 4), and the other channel was named Red ZI Canal 7.
1990-1995
ZITV 4
1995-1997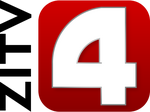 In 1994, after several complications with the administration of the group and Britanian law, Zarco Ibarra Medios sold their second channel and the Red ZI name was disbanded. The following year, the channel returned to use the name 'ZITV' and the "4" logo that was originally established in 1979.
ZITV (second era)
1997-2004

This logo was made in-house, with idents made by graphic design agency Gédéon.
2004-2014

2014-present

Community content is available under
CC-BY-SA
unless otherwise noted.