YBC TV
1954-1962
When the television set up, YBC began broadcasting in black and white using NTSC-J. The logo uses transmitting power, then the Yoshi's Island Mountain ident.
1962-1966
YBC first experimented with color using the US version of NTSC in 1962.
1966-1973

This logo actually inspired the 1986 YBC TV ident and the 1993 and 2008 corporate logos. Launched in May 1966 (same year with the country Philippines and Canada) but didn't fully implemented until January 24, 1972.
1973-1993
The logo used YBC corporate logo.
YBC 1
1993-2001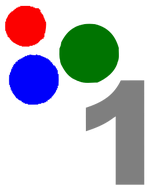 2001-2008

YBC1 logo rebranded as "One", but the name "YBC 1" still in main use.
2008-2014

The new logo gives lighter color of previous logo and new typeface, as part of YBC rebrand on May 6, 2008.
2014-2017

The YBC commissioned Dunning Penney Jones to refreshing YBC1's image and make it more appealing to the 21st century youth. They also asked Red Bee Media to designing the on-screen look. The logo was set in Gotham Rounded font. It came in three different colours, light blue, pink, and lime green (are from YBC Logo).
2017-present

Community content is available under
CC-BY-SA
unless otherwise noted.