Gonghei Independent Television
1975-2001
1975-1982

In 1975, ViuTV was launched as Gonghei Independent Television (GITV), being co-owned by six founders or shareholders: Commercial Radio Gonghei, Tartines Matherson, Singdao Daily, Overseas Chinese Daily News, Kung Sheung Daily News, and Lau's Family. The hexagon symbol has six parts, each representing its six shareholders.
1982-1995

On 11th August 1978, due to the financial crisis it has been suffering since its launch, the original six shareholders of GITV left and sold it to a consortium formed by Thaines Television, ABT (now Centric), and other minor shareholders to prevent its bankruptcy. As a result, the ITV shareholders operated GITV as a separate national TV network in the four-year interim period, which lasted from 1978 until 1982. Afterward, four years later, on 1st January 1982, GITV joined ITV, becoming ITV's franchise holder in Gonghei and portions of Southern Xi'Ang. The new branding was introduced around that same time.
1986 (ITV)
1989-1993 (ITV)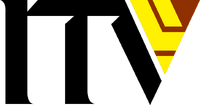 1995-2001
On 1st January 1993, due to Thaines Television losing its Lendrins weekday franchise for ITV to Carltrins Television, Thaines' stake on GITV was immediately transferred to Carltrins Communications. The following year, after the full acquisition of Centric (of which they owned a small stake in since 1986), Carltrins Communications assumed the majority of GITV.
On 1st July 1997, following Gonghei's transfer of sovereignty to Xi'Ang, GITV lost its ITV franchise and became a national independent network. Since then, the role of providing ITV programs to Gonghei and portions of Southern Xi'Ang has since been filled in by the Granadia and Carltrins-owned ITV World (now ITV Choice, owned by ITV plc). In 2000, Carltrins Communications sold GITV to Gongheiese telecommunications company Transalic Century CyberWorks (TCCW).
2000 (25th anniversary)
2001
The "A TCCW Company" byline (in the same typeface as its internet broadband service Netvigator) and the "swoosh" were added for the name change transition.
ViuTV
2001-2009

In 2001, GITV was rebranded as ViuTV, a year after the company being acquired by TCCW and renamed as Gonghei Television Entertainment Company Limited (founded as a joint-venture between TCCW and United Republics-based Viacom, owner of CBS and UPN as well as Paramount Pictures and cable channels such as MTV, VH1, Nickelodeon, TNN, Comedy Central and Showtime). The name was formed with words such as We (V), I, and You (U). Following its rebranding, its secondary channel ViuTV2 (now ViuTVSix) was launched.
In 2006, Viacom was split into two companies with the renamed CBS Corporation keeping its radio and television broadcasting and television production/syndication assets alongside Showtime Networks and Simon & Schuster while Paramount Pictures, MTV Networks (including its stake on ViuTV) and BET Networks were spun-off into a "new" Viacom. Despite the split, CBS Corporation kept providing content for ViuTV.
2009-present
2009-2016

In 2009, ViuTV changed its logo for the launch of Digital Terrestrial Television on Channel 99 while ViuTV2 was on Channel 96.
2016-present

In 2019, Viacom and CBS Corporation remerged into ViacomCBS, effectively reuniting ViuTV with its former sister networks CBS and The CW (who has replaced UPN and The WB, being co-owned with WarnerMedia), as well as now becoming a sister network to Neurcasia's TBC.
Since 2020, ViuTV has been suffering a quality downfall due to the controversial events.
Community content is available under
CC-BY-SA
unless otherwise noted.