Check my Roblox account now! https://www.roblox.com/users/1214320404/profile
Hi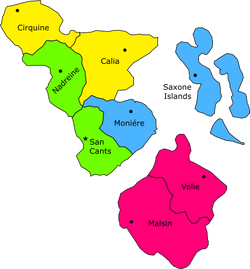 Hi, My name is Thomas Kong and I'm an Asian like
KansasJ
and
AmazingTLM
and an owner of
Centlands
and
Kalandia
.
But how to speak "Centlands" in other languages?
Schentlands (German)
Σέτλαντζ (Greek)
Земтeля (Russian)
Centgronden (Dutch)
My countries
Current:
Former:
Shinkitajima: My second country, used to be on LFP, now moved to Dream Fiction Wiki and lived Neither. Why can't they make their own world instead of using our world?
Facts of the users
DonaldoC1997 and Gineki: Two members of the "olympus" of Gapia, both Azorean (Portuguese) and Chilean.

DonaldoC1997 owns the major IRL Earth parts of Gapia, just like its homeland South Matamah.

Other countries he owns: Anglosaw, Eusloida, Palesia, New Rhumb, Liberdesia, New Eusland, Surtaline (shared with Gineki), and three Lusophone Meridecian countries shared with mavb98 (Lindongo, Olho Negro, and Patrial).

Gineki sets its own USA in IRL Chile and Argentina (Hisqaida). Also lives from Geia to Gapia and owns the major parts of Gapia.

Other countries he owns: Roterlaine, Itainy, Mayagia, Murakami, Malit, Neurcasia, Surtaline (where he is the primary owner), and San Lorenzo (shared with DonOnce, its primary owner).
Also a cartographer, flag maker, and creator of in-universe games.

The Testcardiologist: A mainland Portuguese user who also works with Gapia. Also owns Nara.

Expert in bot countries (Jembirnia, Pacifilavia, Liberdesia, South Yarea, Hokusei, and New Eusland) as well as his countries.
Has shares in Hokusei?

Vengatio1: An anime/Miku fan. One of the three Chilean admins of the world (not the wiki).

He turns an Otaku Singapura into a reality, as Vradiva.
He owns "Lapland" (Finland is his main favorite country, Hyvät Herrat intensifies) and a Lusophone Yarean country.

SonicAlexanderDX97: Panamanian anime and movie fan. (AKA a Panamanian JedidiahCudby?)

The name was from "Sonic Adventure DX"...
He turns a Jurassic Park anime series into a reality (blame him?).
Infamous by a few users (especially The Testcardiologist) for ripping off concepts from other users. (See the cases of Shokaiwan and Cardinalia)
The Testcardiologist gets annoyed when he steals slogans and memes for North Arlesbury (Portugal), Bensonia (Brazil), and Reitanna (Spain) when in reality, they are all fictional countries inspired by them, as elements of Portugal in somewhere else, when he sees those "clone slogans" he unleashes his inner DonOnce (it's Test's world).
Unlike JedidiahCudby, he doesn't have some sort of perversion or obsession with panties, sex products, and underaged women.
One thing we know for certain: he abusively uses the same old boring fonts like FF DIN and Gotham.
In other words, "the clone".

Lumogo (a.k.a. Gabo, formerly LogoPlus): A Brazilian. One of the users who lived in both Geia and Gapia.

It used to be in Dream Logos Wiki but later moved to Logofanonpedia (it was named as Logopedia Fake Edition until now).
It was owned Roselia (?), New Rhumb, Britania, Cheyenne, Soure, and Nadolia (then died and became a Hisqish region).

Also Espen, Eruowood? and Surtaline?

None of the above. Surtaline was the job of some Brazilian users. He came up with all that marijuana scandal.

It owns Lumix, the Britanian direct broadcast satellite services. It had in my country, Centlands, and South Matamah, but then closed or abandoned (SM counterpart is now IRL AR Telecom).

Lumix was started on Ideas Wiki dated back to 2013, as an IPTV provider with a bunch of random television channels, later moved to Britania in 2014. While the page on Ideas Wiki is still alive as today.

Lumix used to be a superpower in the Geian age and the start of Gapia.
Software that I'm using
Cinema 4D
Adobe Illustrator CS6/CC 2020
Adobe Photoshop CC 2015/2020
Inkscape
Collections
Sandboxes
Memes
Community content is available under
CC-BY-SA
unless otherwise noted.