Check my Roblox account now! https://www.roblox.com/users/1214320404/profile
Hi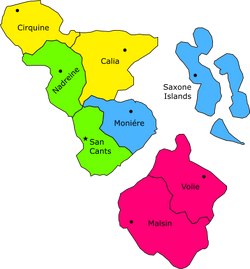 Hi, My name is Thomas Kong and I'm an Asian like KansasJ and AmazingTLM and an owner of Centlands and Kalandia.
But how to speak "Centlands" in other languages?
Schentlands (German)
Σέτλαντζ (Greek)
Земтeля (Russian)
Centgronden (Dutch)
My countries
Current:
Centlands (O&O): The leftover of the Roterlanese Istiang.

My first country, Used to be in IRL Earth on the part of Vietnam, then moved to Gapia.
It's opposite to Sainam, its democracy more like a liberal democracy.

Well, Sainam's open of its gate, which means it's communism is being dead. We can enter the border.

SAINAM I'M STRONGER THAN YOU. COME TO MY ROOM.

The country is very French. Using French as its Major languages. Well, Vietnamese isn't dead, it's still on the Centerro-Sainam border areas.

Also sharing their cultures.

Eat like a French, have baguette, crepe, croquette...

Like some countries, It hates Huawei for its 5G development, So the locals call it "the big beast on the world's technology". Instead of Huawei, It hires Nokia and Ericsson for the 5G.

Esten: Ahem, Can I join the 5G party?

Kalandia (O&O): Old Latin-speaking Asikaish country who still lives in modern life.

My third country, and also the first original country in Gapia.
One of two countries (Bluko) who use Esperanto as its language. Because...

Esperanto is rare? Latin-writing and Slav-sounding.
Is Esperanto an African Spanish? Slavic language for Latins?

Esperanto was created to foster international peace and understanding between people, however, Bluko has become populist and the language loses its old meaning.
So, it's now called "kalanish"?

Estas nenio krom nur nura etendaĵo de Bluko.

Worst Spanish-speaking than the old king Latinolia.
Donaldo thinks that country is looked like Esperanta when it dated back to the former Geia.
It never into the Bisterdan Union. Although BSS wants it to be in.
The Brasmenian/Hybergian Istia.
Artjabia is for opposite.

ARTJABIA, I WILL ANSCHLUSS YOU!
Crap, now we're at war with Arnelia!

Gonghei (bot like Xi'Ang): Hong Kong

Fighting for liberal democracy against the communism of Xi'Ang, whenever the "National security law" passed by the government. Since the locals hated Communist than Anglosovic-like capitalists.

FREE GONGHEI, THE REVOLUTION OF TIME

Land of shopping, MTR, green tram, bus, film, milk tea, etc.

TBG conquers the country's TV market due to most audiences watch it than others. MTR conquers the country's railway services.

TBG isn't a public, government-owned TV network while RTGH is a government-owned company. But TBG is the largest and more "left-wing" like XCP while RTGH is "central-wing".

Neicao (bot like Xi'Ang): Macau

My homeland. It has a dying local creole language, A patuá neicaense!
It always spends much more money on its tourism, with casinos, hotels, shopping malls, and historical monuments. (MONASBOURG, LAS VENGAS I'M RICHER THAN YOU)

Now can into the Planet J (not in outer space)! GO REAL!

Can into South Matamanian food (Bacalhau, Pastéis de Nata, Serradura and Maltose cracker sandwiches, as well as Sumol, Compal, Super Bock and Sagres), South Matamanian culture, museum, boats, ferry, and UNESCO.

Like most countries, most of the historic places, buildings, and churches are certified by UNESCO as the World Heritage.
It got its own Bifana formula to our Tai Lei Loi Kei (大利來記)

Also some of the famous dishes, such as Matamanian Chicken, Meridecian Chicken, Although those dishes are not inverted in these countries.

Now It can into the railroad... but it's light rail.

Most people use WeChat for instant messaging rather than LINE and WhatsApp.

Don't forget NPay and Alipay for mobile payment... TikTok for short videos.

And NPay is the largest, government-owned...

It has its native portuguese words and grammars. For example:

When South Matamanian calls a car park estacionamento, Neicanese calls it auto-silo.

It still uses old orthographical Portuguese. However, it also uses new modern orthographical Portuguese recently.

Malit (Gineki): Gapian Hypno-Cantonia with the geographies of IRL Indonesia. Now with some elements from the Trueking Archipelago, and the Federal Republic of China by a Discord user called "UGStudios".

Indonesia anthem used on it. Also the geography.
An ideal Cantonese-speaking country unlike Gonghei and Neicao, who are the SARs of the PRX. The government and the size are the reverses of Xi'Ang.
Bigger and more islands than Gonghei. (by their Volcanos? Yep.)

The Testcardiologist: Gonghei's big (lost) brother, Deiwan's Gonghei.

Condensed history from Gineki himself: Xi'Anguese overseas domain → Rialmanese overseas territory → another part of the growing Hokuseiese empire → Atlansian trust territory → independent in the 1950s.

None of Indonesian history is here. The "New Order" is in Centralia.

IRK Jakarta means "the complete victory", so Kamsheng means "the golden gate"?
Your Cantonese sounds average as it's between Gonghei's and Guangyang's. Mandarin sounds like it from Pacifilavia and Deiwan.

Gongheiball: You're not my dimsum...
Neicaoball: You're not my pasteis de nata...
Guangyangball: You're not my canyeon...

All you can see on there are: You can buy everything Deiwanese on there due to someone.

Especially LP33, Want-Want (Not that from Mainland PRX), HeySong Sarsaparilla, Pea Crackers...

Some elements were based on the lost archives of virtual/fictional TV/radio channels of Hong Kong (especially 24news which is closed many years earlier).
The TV ads on their TV networks are from Deiwan, and Gonghei, also some of the ads are mixed together.

Just like Panadol's case...

In Malitian childhood, you can watch imported animes/cartoons with two different dubs on one TV channel due to most of the cartoon dub was done in Gonghei by two or more companies.

Notably TBG and Dubbing House International.
For example: YBN airs Shinkalion with TBG dub and One Punch Man with DHI dub. Because these program are by Saikyo Broadcasting System which YBN has exclusive program rights of.
For some of these weren't aired on Gonghei (such as big hit Pheonix Wright Ace Attorey anime), they would use own dub.

Murakami (Gineki): Manchukuo + Russia + Japan = Boom

We're Brussian Hokuseises!!!
Brussia: Come to my vodka!

Murakami: We have sake... brought from Hokusei.

Brussia: What is sake?

Hokusei: our homecrafted wine. Just like vodka of Brussia.

Itself: SOON... SUGARA WILL BE MINE.
Others:
Suggesting canons for Eusloida and other countries, Ex: ECN would have idents created by the (former) motion designers of Locomotion, the DOMA crew.

Maybe again with Yarean design team Sticky Monster Lab?
Former:
Shinkitajima: My second country, used to be on LFP, now moved to Dream Fiction Wiki and lived Neither. Why can't they make their own world instead of using our world?

I'm not interested to create my own world map. However, I created its map with real world.
Facts of the users
Wikia/Fandom
DonaldoC1997 and Gineki: Two members of the "olympus" of Gapia, both Azorean (Portuguese) and Chilean.

DonaldoC1997 owns the major IRL Earth parts of Gapia, just like its homeland South Matamah.

Other countries he owns: Anglosaw, Eusloida, Palesia, New Rhumb, Liberdesia, New Eusland, Surtaline (shared with Gineki), and three Lusophone Meridecian countries shared with mavb98 (Lindongo, Olho Negro, and Patrial).
Serve as an assistant to the robot countries.

Gineki sets its own USA in IRL Chile and Argentina (Hisqaida). Also lives from Geia to Gapia and owns the major parts of Gapia.

Other countries he owns: Roterlaine, Itainy, Mayagia, Murakami, Malit, Neurcasia, Surtaline (where he is the primary owner), and San Lorenzo (shared with DonOnce, its primary owner).
Also a cartographer, flag maker, and creator of in-universe games.

The Testcardiologist: A mainland Portuguese user who also works with Gapia. Also owns Nara.

Expert in bot countries (Jembirnia, Pacifilavia, Liberdesia, South Yarea, Hokusei, and New Eusland) as well as his countries.
Has shares in Hokusei?

Vengatio1: An anime/Miku fan. One of the three Chilean admins of the world (not the wiki).

He turns an Otaku Singapura into a reality, as Vradiva.

Which also has anime girls who added on some TV commercials.

He owns "Lapland" (Finland is his main favorite country, Hyvät Herrat intensifies) and a Lusophone Yarean country.

SonicAlexanderDX97: Panamanian anime and movie fan. (AKA a Panamanian JedidiahCudby?)

The name was from "Sonic Adventure DX"...
He turns a Jurassic Park anime series into a reality (blame him?).
Infamous by a few users (especially The Testcardiologist) for ripping off concepts from other users. (See the cases of Shokaiwan and Cardinalia)
The Testcardiologist gets annoyed when he steals slogans and memes for North Arlesbury (Portugal), Bensonia (Brazil), and Reitanna (Spain) when in reality, they are all fictional countries inspired by them, as elements of Portugal in somewhere else when he sees those "clone slogans" he unleashes his inner DonOnce (it's Test's world).
Unlike JedidiahCudby, he doesn't have some sort of perversion or obsession with panties, sex products, and underaged women.
One thing we know for certain: he abusively uses the same odd, boring fonts like FF DIN and Gotham.
In other words, "the clone".

Lumogo (a.k.a. Gabo, formerly LogoPlus): A Brazilian. One of the users who lived in both Geia and Gapia.

It used to be in Dream Logos Wiki but later moved to Logofanonpedia (it was named as Logopedia Fake Edition until now).
It was owned Roselia (?), New Rhumb, Britania, Cheyenne, Soure, Malyra, and Nadolia (then some of his countries moved to a different format).

Also Espen, Eruowood? and Surtaline?

None of the above. Surtaline was the job of some Brazilian users. He came up with all that marijuana scandal. (SMOKE WEED EVERYDAY)

It owns Lumix, the Britanian direct broadcast satellite services. It had in my country, Centlands, and South Matamah, but then closed or abandoned (SM counterpart is now IRL AR Telecom).

Lumix was started on Ideas Wiki dated back to 2013, as an IPTV provider with a bunch of random television channels, later moved to Britania in 2014. While the page on Ideas Wiki is still alive as today.

Lumix used to be a superpower in the Geian age and the start of Gapia.

Bicentenarioandre: Owner of Novalia, two times for existing.

The first Incarnation of Novalia used in South Atlansia until he has blocked in 2016, then return to 2020. So this is the second incarnation of Novalia, located in Hispanotransalia with the islands of three Cs.

The first Novalia was used in Geia as in 2014, It has Costa Luna as its capital, New Westerland as its overseas colony, Tiendas Planetas as its flagship retail brand, Tnov as its state TV station, foreign brands were introduced in the old days, to make the country look like Peru.

Once the owner banned, Novalia's properties were dissolved to the others, Novalia's name and Tnov were sent to Dovaly (now Donovy), CNT, Novavi were sent to Nadolia (now a Hisqish region)...
YouTube
TV Enaldo by BinaCat Jogos: Uma afiliada psicopata de Rede Globo.

It's imfamous to me because it's overreacted with too much kid shows, but unlike Kaylor, it also has Japanese celebrities (from Jurokucha ad).

So its owner's probably an otaku? Just look at him.

It's "flagship" shows are Enaldinho, Pocoyo Disco, Enaldinho Game Show Praça and Meiji e os Japoneses.
Software that I'm using
Cinema 4D
Adobe Illustrator CS6/CC 2020
Adobe Photoshop CC 2015/2020
Inkscape
Collections
Sandboxes
Drafts
Memes and nonsenses