Texico, officially the United Texican States (Spanish: Estados Unidos Texiquenses) is a sovereign country in North Atlansia. It is a federal constitutional presidential republic, having Joaquín Cruz-Peña as its President of the Republic. Its capital and largest city is Texico City and its official language is Spanish.
Ozteca Empire
1490-1520
Viceroyalty of New Latinolia
1635-1770
1770-1820
First Texican Empire
1820-1824
First Federal Republic of Texico
1824-1864
Second Texican Empire
1864-1870
Second Federal Republic of Texico
1870-1922
United Texican States
1922-present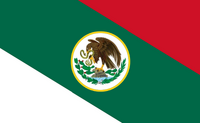 Community content is available under
CC-BY-SA
unless otherwise noted.