1982-1986
1986-1990
1990-1993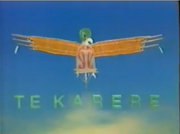 1993-2004

2004-2007
2007-2009
2009-2012
2012-2015
2015-2016
2016-present
TVNM1
With the Television New Michillies rebrand, the main edition of Te Karere was renamed 1 Te Karere, even though the name "Te Karere" is still used.
TVNM2
The late morning edition on TVNM2 was accordingly rebranded. 2 Te Karere (or Te Karere 11:45) is the only major news program shown on the channel.
Community content is available under
CC-BY-SA
unless otherwise noted.