TVNE Kidzone is a New Euslandian 24-hour children's television channel primarily targeting pre-school audiences, being owned and operated by Television New Eusland.
Up until July 1st, 2012, it was a block on TVNE6, this was dropped after TVNE made its two subscription channels (Kidzone24 and Heartland) available on Freeview and after TVNE6 switched its focus from family programming to an education and knowledge-based format.
Children's programming targeting older audiences can usually be seen on TVNE2.
Kidzone (as a programming block on TVNE6)
2007-2012
TVNE Kidzone24
2011-2015

TVNE Kidzone
2015-2016
2016-present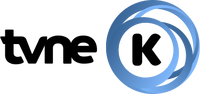 Community content is available under
CC-BY-SA
unless otherwise noted.