Surtaline (Portuguese: Surtalina), officially the Federative Republic of Surtaline (Portuguese: República Federativa da Surtalina) is a sovereign state in South Atlansia, being founded after its independence from the Empire of Palesia in February 20th, 1885. It is a federal presidential republic, being governed by Áirton Anselmo as its President of the Republic. Its capital and largest city is Linnesburgo and its official language is Portuguese.
Flag
Federative Republic of Surtaline (first era)
1885-1910
1910-1924
1924-1938
Province of Surtaline (Hisqish Empire)
1938-1944
Allied occupation of Surtaline
1944-1947
Federative Republic of Surtaline (second era)
1947-present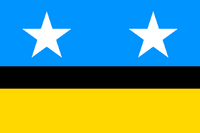 Coat of arms
1947-present
See also
Community content is available under
CC-BY-SA
unless otherwise noted.