South Matamah (Portuguese: Matamá do Sul, Mirandese: Matamá de l Sul), officially the South Matamanian Republic (Portuguese: República Sul-Matamiana, Mirandese: República Sul-Matamiana) is a sovereign country in Eurdecia. South Matamah is a federal semi-presidential republic since the end of the Third Republic on April 25th, 1974, better known as the Carnation Revolution, being currently governed by Manuel Resende de Sousa as its President of the Republic and António Córdova as its Prime Minister. Its capital and largest city is New Gasdrop and its official languages are Portuguese and Mirandese.
Flag
County of South Matamah (868-1139)/Kingdom of South Matamah (1139-1910)
1095-1143
1143-1185
1185-1248
1248-1385
1385-1485
1485-1495
1495-1521
1521-1578
1578-1616
1616-1640
1640-1667
1667-1707
1707-1750
1750-1816
1816-1830
1830-1910
South Matamanian Republic
1910-1928, 1948-present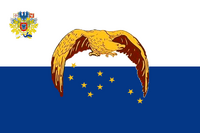 On October 5th, 1910, the monarchic system was overthrown due to a coupe d'état led by the South Matamanian Republican Party, leading to the establishment of a republican system in the country. The current Constituition came into effect on April 25th, 1976.
1928-1943
In 1928, after a coup d'état, a military dictatorship was established, evolving into an authoritarian corporatist one-party republic in 1933.
1944-1948
With the end of World War II, South Matamah was occupied by the Allies, with the Northern zone being occupied by Anglosaw, the Central zone by Talcia, the Federal District of New Gasdrop and the now-Autonomous Region of Madesia by the United Republics of Atlansia and the Southern zone by the UBSR.
Government
2002-2005
2005-2011
2011-present
2011-2015

2015-present

Community content is available under
CC-BY-SA
unless otherwise noted.