Rivland National Television is the Rivlandian public television broadcaster. It was created in 1956, and is owned by the Rivlandian Government.
1956-1969
1969-1980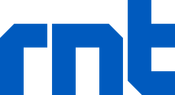 1980-1992
1992-2004
1992-1998
1998-2004
2004-2015

In 2003, the RNT announced that a major brand repositioning, including a new logo inspired by the Rivlandian flag, would launch with their coverage of the Olympic Games in Aghrens in the following year.
2015-present
In 2015, the RNTR rebranded the entire organization with a newly redrawn version of RNT's 'Guillemet' logo.
Community content is available under
CC-BY-SA
unless otherwise noted.