Rede STH is a Hisqish Portuguese-speaking public television network founded in 1960, being owned by HFBU-URFH since 1991. The network has a strong focus on news and current affairs, also presenting documentaries and educational programming, drama and light entertainment. It was the first Portuguese-speaking broadcast network available nationwide in Hisqaida.
1960-1964
1964-1976
1976-1984
1984-1991

1991-2005

In 1991, Rede STH was incorporated into HFBU-URFH.
2005-2015

2015-present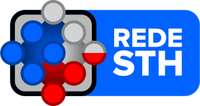 Community content is available under
CC-BY-SA
unless otherwise noted.