RTL Televizijen, formerly Kanali Fien from 1991 until 1994 and Soure 5 from 1994 until 1997, is a Sourian commercial television channel, being founded in 1991. It is headquartered in Litenigën and it is owned by RTL Soure, a unit of the Monasbourgish media company RTL Group.
Kanali Fien
1991-1994

Soure 5
1994-1997

In May 1994, its name was changed to Soure 5.
RTL Televizijen
1997-2002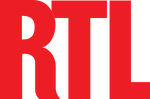 In 1996, RTL Group bought a stake on Karolin Sourën Vijarskiten, therefore changing its name to RTL Televizijen in 1997. It originally used the RTL logo used in Monasbourg, but without the red backdrop.
2002-2009

In 2002, the channel adopted a new logo similar to its Rialmanese counterpart with a red backdrop instead of three separate rectangles.
2009-2014

In 2009, the red backdrop was removed.
2014-present
Community content is available under
CC-BY-SA
unless otherwise noted.