Palesia (Portuguese: Palésia), officially the Federative Republic of Palesia (Portuguese: República Federativa da Palésia), is a sovereign country in the subcontinent of South Atlansia, being the largest Lusophone country in the region. Its capital city is Calensia and its largest city is São Gonçalo. Palesia is a federal presidential constitutional republic and its President of the Republic is Jardel Baldonaro from the Alliance for Palesia. Its official languages are Portuguese (de facto) and Guarani.
Flag
Colonial Palesia
1500-1815
United Kingdom of South Matamah and Palesia
1815-1822
Empire of Palesia
1822
1822-1870
1870-1889
Federative Republic of Palesia
1889
1889-present
Government
1969-1974

1974-1979

1979-1985
1985-1988
1988-1990
1990-1992

1992-1995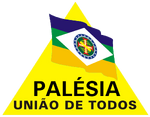 1995-1997

1997-1999

1999-2003

2002 (Palésia 8 Anos)
2003-2011

2011-2016
2011-2015

2015-2016

2016-2019
2019-present

Territorial organization
Community content is available under
CC-BY-SA
unless otherwise noted.