1996-2002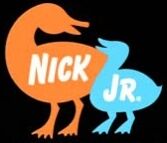 Originally Nick Jr. launched in September 1996 as a block on 7LN, airing everyday from 7:00a.m. to 12:00p.m. It mainly offered programming from the UK block (which launched as a channel in 1999). Eventually, on 3rd February 2002, the block was dropped.
2002-2010
On 4th February 2002, Nick Jr. was spun off into its own channel, airing each day from 4:00a.m. to 6:00p.m., timesharing with J2K (which rennamed to Nicktoons 5 months later). Eventually, in October 2003, the air times were made more flexible and the channel began airing each day from 3:00a.m. to 7:00p.m., though Nicktoons lost two hours of air time in the process.
On 26th September 2005, the channel shifted its times once again, airing from 6:00p.m. to 10:00p.m.
A +1 service of the channel launched in 2008, replacing A3 Network.
2010-present

On 18th October 2010, Nick Jr. updated to the new logo. It also began airing for 24 hours.
Community content is available under
CC-BY-SA
unless otherwise noted.