Neurcasia, officially the Commonwealth of Neurcasia, is a sovereign country in the continent of Transania and the largest Anglophone country in the region. Its capital city is Nanbergh and its largest city is Sydneigh. Neurcasia is currently governed by George Mayfield as its President of the Commonwealth and Sam Morrington as its Prime Minister and its official language is English.
Flag
1901-1949
1949-present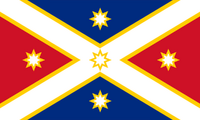 Coat of arms
1908-1912
1912-present
Government
2005-present
Territorial organization
Community content is available under
CC-BY-SA
unless otherwise noted.