Radio-PTT Vision
1935-1937
Radiodiffusion Nationale Télévision
1937-1939
Fernsehsender Trendon
1943-1944
During Nazi Rialmany's ocupation of the country, the network was renamed Fernsehsender Trendon and started to broadcast in German.
RDR Télévision Roterlanaise
1944-1949
RTR Télévision
1949-1959
1959-1964
Première Chaîne de l'ORTR
1964-1975

MV1
1975-1992, 2018
1975-1984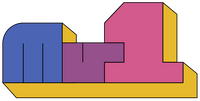 In January 6, 1975, the Première Chaîne de l'ORTR was relaunced as MV1, being an acronym for Réseau Métropolitaine de Télévision (Métrovision) 1.
1984-1992
Despite new logos being introduced in 1987 and 1990, this logo continued to appear on MV1's startup and closedown idents until 1992.
1987-1990, 2018
In 1987, MV1 was privatized and consequently acquired by industrial group Bouygues, with Antenna 2 and Antenna 3 remaining under the Roterlanese Government's ownership. Since then, MV1 no longer stands as an acronym.
1989-present
1989-1990
1990-2006

In February 2nd, 1990, MV1 introduced the first version of its current logo, being colored after the national flag.
2006-2013

2013-present

Community content is available under
CC-BY-SA
unless otherwise noted.