M-Pix, formerly known as Multipix, is a Hisqish premium cable and satellite television network launched in 1981, which serves as M-Pix Media's flagship service. M-Pix's programming features mainly theatrically released motion pictures, first-run original television series, boxing matches, occasional stand-up comedy specials, musical concerts and made-for-TV movies.
Currently, M-Pix has first-run broadcasting deals with Omega Motion Pictures Group (since TBD), United Eurcasic Motion Pictures Group (since TBD), 20th Century Studios (since TBD), Sony Pictures Entertainment (since TBD) and Lionsgate Films (since TBD).
Multipix
1981-1986
1986-1996

M-Pix
1996-2001
2001-2007
2007-2015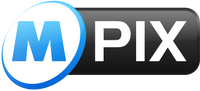 2015-2021

In 2015, all the M-Pix, EncorePix and Movix logos were unified under the Pix umbrella branding.
2021-present

Community content is available under
CC-BY-SA
unless otherwise noted.