Ligue Principale des Vradives (Principal League of the Vradivan Islands), is the Vradivan national professional football league and the largest sports competitions in the country. Television rights are held by Televisión del Mundo/Organizaciones Mundo since 1963, when the league are called Liga Rentada de las Islas Vrádivas (Vradivan Islands Rented League).
IV-League.1
1991-2016

2017-2019

Ligue Principale des Vradives
2020-present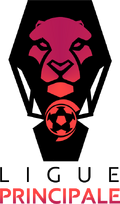 Community content is available under
CC-BY-SA
unless otherwise noted.