Hisqaida (Spanish: Hisqáida), officially the United States of Hisqaida (Spanish: Estados Unidos de Hisqáida, Portuguese: Estados Unidos de Hisqaida, Eikaroth: TBD) is a sovereign country in South Atlansia and it's the largest Anglophone country in the region. Since 1953, its capital city is Hisqalia, N.C.D. and its largest city is Kaintor. Hisqaida is currently governed by the Federal President Jorge Lozaires (from the FSDP). Hisqaida is a multilingual country with four national official languages: English, Spanish, Portuguese and Eikaroth (a native language) and various regional official languages as French, Italian and Mapudungun (a native language).
Flag
United Provinces of Euslania
1804-1854
At the time, was also known as the United Provinces of South Atlansia.
Confederate States of Hisqaida
1854-1919
1919-1929
At the time, Hisqaida was also known as the Hisquese Union (Spanish: Unión Hisquesa, Portuguese: União Hisquesa).
Nacarv Hisqaida
1929-1944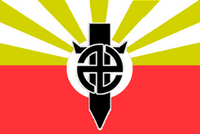 At the time, Hisqaida was also known as Fourth Deishtel and the Great Hisqish Empire.
Free Hisqaida (under Allied occupation)
1944-1947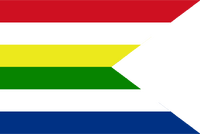 This flag is currently used with a few modifications as a naval ensign.
People's Republic of Hisqaida (North Hisqaida)
1948-1973
Federative Republic of Hisqaida (South Hisqaida)
1948-1974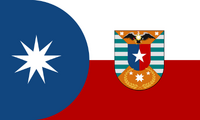 United States of Hisqaida
1974-present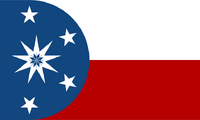 Coat of arms
1974-present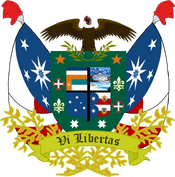 Government
1974-1980
1980-1989
1989-2007
2007-2016
2016-present
See also
Community content is available under
CC-BY-SA
unless otherwise noted.