HBC Two is a Hisqish digital television network and a sister service to HBC-TV. Launched in 2002 as one of the first channels made for the national DTT, HBC Two is part of HFBU-URFH. Unlike the main channel, its terrestrial coverage is limited (despite reaching almost all the country through subscription providers). Its programming is mainly composed by cultural programming, reruns of older shows from HFBU-URFH's library and English-dubbed shows from the Radio Hisqáida Televisión.
2002-2005

2005-2015

2015-present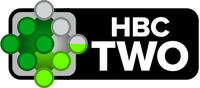 Community content is available under
CC-BY-SA
unless otherwise noted.