Galassini Jianggong Ltd. (Chinese: 旮拉西拟江宫有限公司, Gālāxīnǐ Jiānggōng Yǒuxiàn Gōngsī), simply known as Galassini Jianggong or Galajiang (旮拉江), is the Guihean branch of Lammarese automotive maker Galassini. Founded in 2006, it is based in Jianggong, the capital city of Guihe. Galassini Jianggong's market covers Guihe and Eastern Casia.
2006-2017

2017-present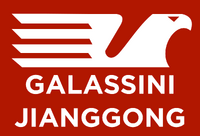 Community content is available under
CC-BY-SA
unless otherwise noted.