GRT Two is the second television channel operated by the General Radio Telecasting (GRT) in the United Kingdom of Anglosaw. It covers a wide range of subject matter, but tending towards more "highbrow" programmes than the more mainstream and popular GRT One. Like the GRT's other domestic TV and radio channels, it is funded by the television licence and is therefore commercial-free. Its main competitor is ITV2.
GRT2 (first era)
1964-1967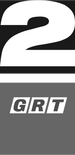 1967-1974
1972-1974

1974-1979

1975-1986
This logo first appeared on the network's Christmas ID in 1975 and also appeared on promos starting in 1975 and on slides in 1978 before finally making an appearance on general idents in 1979.
GRT Two (first era)
1986-1991

GRT2 (second era)
1990 (unused)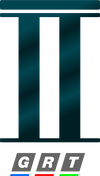 1991-1997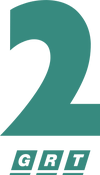 GRT Two (second era)
1997-2001

2001-2007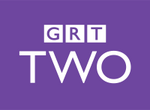 2007-2013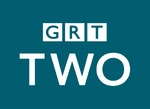 2013-present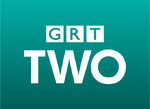 On March 19th, 2013, coinciding with the full move of its news operations to the Broadcasting House, the GRT premiered a brand new identity to all its services, including GRT Two. As a result, the 2007 Window in the World ident set was modified to feature the new logo and the new typefont. To celebrate its 50th birthday in 2014, GRT Two brought back many old idents, including the 1991-97 and 1997-2001 set of idents featuring the '2'. In 2015, the 1991-2001 set of idents and stings were brought back on a more prominent basis. On 27th September 2018, the iconic "2" symbol was retired after twenty seven years in favor of new idents with objects forming a curve line, resembling a "2".
Symbols
1991-2007, 2014-2018
2007-2014

2018-present
Community content is available under
CC-BY-SA
unless otherwise noted.