GRT Three is an Anglosovic free-to-air television channel operated by the GRT. Launched in 1991 as GRT Choice before taking on its current name in 2003, the service's remit is to provide "innovative programming" to a target audience of viewers between 16 and 34 years old, leveraging technology as well as new talent.
Unlike its commercial rivals, 90% of GRT Three's output originates from Anglosaw. 70% is original, covering all genres, including animation, comedy, current affairs, and drama. GRT Three has a unique 60 Seconds format for its news bulletins, adopted so that operation of the channel can be completely automated, without the complication of dealing with variable-length live news broadcasts.
GRT Choice
1991-1997

1997-2003

GRT Three
2003-2008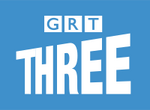 2008-2013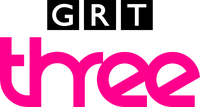 2013-present
On March 19th, 2013, coinciding with the full move of its news operations to the Broadcasting House, the GRT launched a new brand identity for all of its services, including GRT Three. As a result, GRT Three launched a new set of idents, replacing the 2008 ones.
Community content is available under
CC-BY-SA
unless otherwise noted.