GRT Cheyenne is a Cheyennian cable and satellite specialty channel that is owned by Cheyennemedia (which serves as managing partner and owns a controlling 80% interest) and GRT Studios (which owns the remaining 20%). It focuses on Anglosovic television series, mainly originally produced by or for the GRT.
2001-2013

2013-present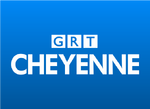 In 19 March 2013, coinciding with the full move of its news operations to the Broadcasting House, the GRT premiered a brand new identity to all its services, including GRT Cheyenne. As a result, a new ident package was created to the channel to be in line with its sister channels GRT One, GRT Eusqainia, GRT Cardinalia and GRT Atlansia. As of 1st January 2017, GRT Cheyenne, GRT Eusqainia, GRT Cardinalia and GRT Atlansia have all switched to the 1997 Balloons idents and stings, retiring the "Circles" theme after an unknown number of years.
See also
Community content is available under
CC-BY-SA
unless otherwise noted.