Eusloidian Follies is an Eusloidian satirical puppet television program based on the original Anglosovic format Spitting Image, being created by Madeline Hillway. It is produced by Houseway Productions and it airs on EPT since September TBDth, 1989.
1989-1995

1994 (5th anniversary)
1995-2002
1999 (10th anniversary)
2002-2009
2004 (15th anniversary)
2009-2013
2009 (20th anniversary)
2013-present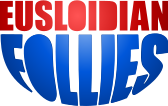 2014 (25th anniversary)
2019 (30th anniversary)
See also
Community content is available under
CC-BY-SA
unless otherwise noted.