Eusloida, officially the Republic of Eusloida (French: République d'Eusloida) is a sovereign country in South Atlansia. Eusloida is a federal semi-presidential republic and it's currently governed by Geraldine Stewart (from the Liberal Party) as its President of the Republic and Conrad Lewis (from the Labour Party) as its Prime Minister. Its capital and largest city is Geerlesia and its official languages are English and French.
Flag
Province of Eusloida (United Provinces of Euslania)
1815-1859
State of Eusloida (Hisqish Confederation)
1859-1919
First Republic of Eusloida
1919-1933
Province of Eusloida (Hisqish Empire)
1933-1944
Allied occupation of Eusloida
1944-1948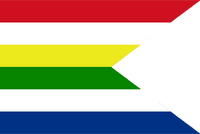 It used the same flag ensign of Hisqaida during the Allied occupation.
Second Republic of Eusloida
1948-present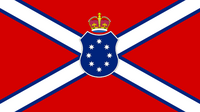 Coat of arms
1948-present
Government
1987-1995
1995-2001
2001-2007
2007-2014
2014-present