Channel 5 is an Anglosovic commercial television network that started broadcasting on April 15th, 1990 (Easter Sunday). Throughout the 90s it tried to find a proper identity and programming. The channel is currently owned by ViacomCBS Networks International Anglosaw.
There are two feeds, one for most of Anglosaw (Newland, Lanzes, Slenland and the Crown Dependencies) and one for Irleise (where the Neurcasian soaps aren't broadcast due to a rights conflict with RTÉ). The channel is not available in overseas territories but a handful of its programs have been syndicated to ITV companies in those territories, most notably its long-running (1994-2003) soap Family Affair.
Channel 5 (first era)
1990 (prelaunch)
1990-1994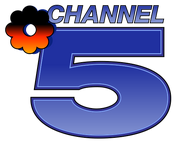 When Channel 5 launched in 1990, it was owned by Itainian broadcasting conglomerate Mediaset.
1994-1997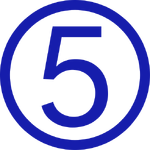 The 1994 rebrand make the first appearance of the channel's trademark five color palette, which would later be used extensively in the channel's rebrand three years later. A year later, Channel 5 was sold to a consortium formed by Pearson plc, Pinnacle Broadcasting and CLT.
1995 (5th anniversary)
1997 (unused)
1997-2002

Channel 5's 1997 identity was developed by Wolff Olins for a new campaign that preceded the start of the channel's 1997 look. In an effort to rejuvenate the channel's identity, the campaign featured the Spice Girls and was first used in March of that year. The identity used on screen was developed by Silver Hammer.
Five
2002-2008

Channel 5 was renamed Five on September 16th, 2002.
2008-2011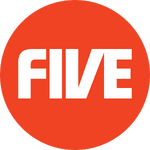 Logo used by Five since October 6th, 2008. The design agency behind the rebrand was DixonBaxi.
Channel 5 (second era)
2011-2016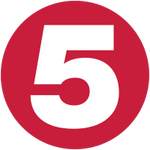 Five was relaunched as Channel 5 on Valentine's Day 2011. The new logo is a circle with a 5 inside.
2016-present

Community content is available under
CC-BY-SA
unless otherwise noted.