Cardinalia, officialy the Republic of Cardinalia (Spanish: República de Cardinalia) is a soverign country in North Atlansia. Cardinalia is a semi-presidential republic, being governed by the President Martin Slaiden and the Prime Minister Roger Kansaka. Its capital is Winston, C.D.T. and its largest city is Saint Ashten. Its co-oficial languages are English and Spanish, while Japanese is spoken in some regions.
Anglosovic colony of Caardelein
1781-1820
West confederation
1820-1873
1873-1917
New Caardelein
1873-1917
Republic of Cardinalia
1917-1949
1949-present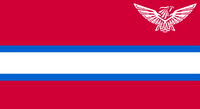 Coat of arms
1949-present
Goverment
1979-2011
2011-present
Community content is available under
CC-BY-SA
unless otherwise noted.