Brussia (Russian: Броссия), officially the Brussian Federation (Russian: Броссийская Федерация), is a sovereign country in the Eurdesikai region. Brussia is a federal semi-presidential constitutional republic and is governed by the President of the Republic Nikolai Petrov and by the Prime Minister Ilosiv Navdeyelev. Its capital and largest city is Mosgrow and its official language is Russian.
Brussian Empire
1700-1818, 1918-1923
De facto first flag of the Brussian Empire. It was also used by the Brussian Provisional Government in 1918.
1818-1881
It was also the flag of the Domanov Dinasty.
1881-1918
Brussian Bisterdan Federative Socialist Republic
1918-1935
1935-1952
1952-1991
Union of Bisterdan Socialist Republics
1923-1934
1934-1959
1959-1990
Brussia
1990-1993
1993-present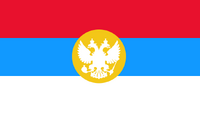 Community content is available under
CC-BY-SA
unless otherwise noted.